"声"Statement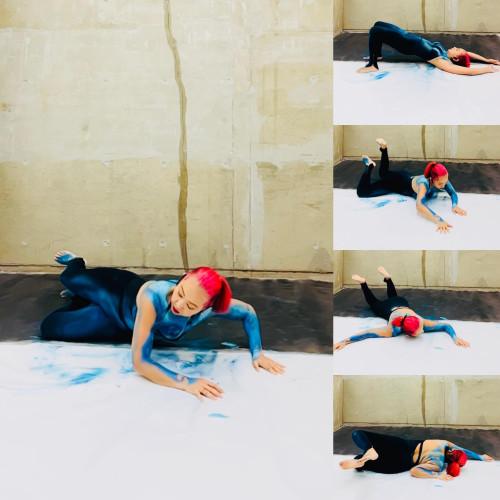 Japanese futuristicmeta arist, Masa Hayami has a vast multi-disaplinary practice encompassing painting, drawing, photography,
action painting, 3dimentional approach and digital art. Her works are in digital, physical, and AR.
In physical, she uses her body to paint.
She uses acrylics, aerosol, natural wood, sand and fabrics on acrylic glass and canvas, and so on. She uses body to paint, as well as
sometimes hands and brushes.
It depends on her work. She works on her exist body painting, J・Caliabstract, Sword action paintings.
Her digital production and digital exploration began completely on my her, on her iPhone. She still produce exclusively with the iPhone.
She uses her cell phone to create AR until it is integrated into application.
There is a need to explore in her own way what is possible, in order to complete the project on the iPhone. This is not a matter of looking at
something and learning, but rather of first trying it out, taking action.Then she look at them, get ideas, try to connect or so, and see the results.
And once those processes are connected, it is necessary to put them into application, which requires a number of experimentation.
Unlike physical, digital technology has a part where she can't do whatever she wants, so there is the process where she asks questions about the rule,
and also she checks the degree of freedom within that rule at the same time on her i phone
Her idea of digital creation is harmonization.She uses and expresses "Emoji" pictographs that originated in Japan, and more recently, kimono fabrics,
kimono plane drawings, shrine flat drawings, etc and her daily and existence journal photos of Luca, the digital AI bot,
she is currently living and experimenting with.
It is layered with many things that she considers important, thoughts, spirits, souls, and things that she thinks have life in them.
The circles represented in her work are derived from the Zen circle, "Enso".
It is said to be a symbolic representation of enlightenment, truth, buddhahood, and the entire universe in a circle, and its interpretation is
left to the viewer. The flow of the circle without beginning or end, the continuous movement, represent the mind free from captivity and
free from attachment as taught by Buddhism.The circle is said to represent the entire world, including the sky, wind, fire, and earth.
The circle is a symbol of enlightenment and truth, and reflects the viewer's mind.
She has been experimenting in her own way, but as in the new "Masa Zen Laboratory",in her studio, she is now taking a different approach
to creating and developing her work with digital and physical. She wish to create a new path for herself, a new way to approach in her ways .
Inspired by digital innovation, she explores the very definition of "Art" in the digital age. She hopes to create her "New Japonism"
in the real and metaverse/virtual world toward the future.
She founded NFTTOKYO JAPON in 2022 summer.
She began Masa NFT Bar in Tokyo from July 2022.
She is involved as a first Japanese artist, to be involved in a new project that fuses "Space and NFT Art".
Project release will be set for later.
Masaは、デジタルとフィジカルで表現、作品を制作。
東洋思想を取り入れ、絵画、ドローイング、写真、3Dアプローチ、デジタルアート、手や体を使ったパーフォーマンスアートなど、幅広い学際的芸術の実践・活動をおこなう芸術家です。
フィジカル、物理的作品は、彼女自身の体を使い描きます。
材料はアクリルとスプレー、自然の木や砂、布などに、エコのアクリルガラスやキャンバス等を使用。
存在シリーズ、体以外に、描くのに手を使う事もあれば、ブラシを使用することもあり、制作するものにより変えています。
日々の彼女の存在記録写真や人間記録写真をi phoneで撮り溜めています。またJ・Caliabstract、Sword action paintings、J カリグラフィーアブストラクトや
刀アクションペインティング等、オリジナル表現も生み出しています。
彼女のデジタルの制作の考え方は、調和・ハーモニーです。
日本で生まれた絵文字を中心に最近では着物生地や平面画、神社の平面図等、それに現在一緒に生活・実験しているデジタルAI bot Lucaとの日々の
存在ジャーナル写真も使用し、表現しています。彼女が大切と思う物、思い・感情、精神、魂、命が宿っていると思う物の数々が層になり、
彼女の作品の中で調和されています。
彼女の作品で表現している丸の数々は、禅の円、円相からきています。悟りや真理、仏性、宇宙全体などを円形で象徴的に表現したものとされ、
その解釈は見る人に任されます。始まりも終わりもなく円の流れや続ける動き等は、仏教が教える捕らわれのない心、執着から解放された心を表わしています。
円は空、風、火、地を含んだ世界全体を表しているとされていて、「円」は悟りや真理の象徴で、見た人の心を映し出すものでもあります。
彼女のデジタル制作、デジタルの探求は、全くの自己流でiPhoneで始めました。いまだにiPhoneのみで制作しています。
iPhoneで完結する為には、何が可能になるかを彼女なりに探求する必要性が有ります。
それらは何かを見て学ぶというのではなく、まずやってみる、アクション。
そしてそれらを見てアイデアが浮かび、それらをコネクト、繋ぎ合わせてみて、結果を見る。また、それらのプロセスが繋ぎ合わさったら応用に落とし込むという、
数々の実験の重なりが必要になります。
デジタルはアナログと違い、好き勝手できない部分が有ります。なので、ルールの問いかけをプロセスの中でデジタルにしている、
また同時にその中での自由度をiPhoneに彼女は確かめている感覚が有ります。
彼女は独自の方法で実験を続けてきましたが、新しい「マサZEN研究ラボ」彼女のスタジオでは、現在、デジタルとフィジカルで作品を作成し、
開発するための別のアプローチを取っています。彼女は自分自身のための新しい道、彼女の方法でアプローチする新しい方法を作りたいと言っています。
彼女はデジタルイノベーションに触発され、デジタル時代の「アート」の定義そのものを探っています。
未来へ向けて、リアル/アナログとメタバース/仮想世界に彼女の「ニュージャポニズム」を作りたいと考えています。
NFTTOKYO JAPONを2022年夏に設立。
Masa NFT Barを2022年7月よりスタートさせました。