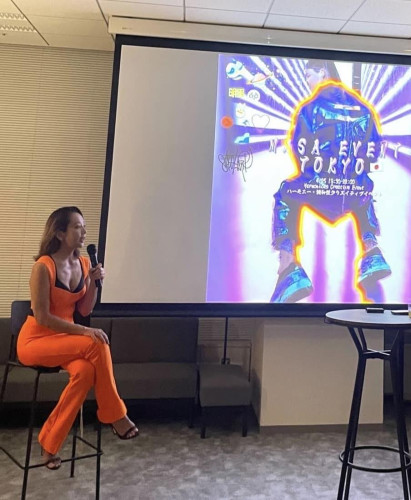 She gradually started to paint,which has been a dream from her younger age.
"I actually wanted to be an artist from when I was young but in Japan, people say it's not realistic to be an artist.My parents were really against it as well, so I became a designer and worked in various creative fields for a long time.I started to think I want to focus on what I really want to do, and be decisive and brave ,do what I really believe and feel. I strongly believe in what I do,and if you do believe, eveything is possible. "
In winter 2018 , she launched a community for Japanese artists called "Artist Bank Japan". She planned,organized and curated Art events and Charity parties which she thinks she needs more in Japan. She founded "Artist Patronage Japan"in 2020 April, to support the Japanese artists who are because of cov19, in hard times, to sell their art on SNS using hash tags and with resonable prices. She hopes that Art will be more familiar to all the people in Japan.
After returning from the univerisity in UK, she started her career as a fashion designer in women's clothing company.
Other than that, she had worked in various creative fields such as flower design, interior design, and party styling.
All her career experiences allowed her to think about "Design and Art".
She founded NFTTOKYO JAPON(now named FUTUREART・JAPON) in 2022 summer.
She began Masa NFT Bar in Tokyo from July 2022.
She started Masa Event Tokyo from 2023 April.
Masa Hayami is a first Japanese artist, to be involved in a project that fuses "Space Art and blockchain art, NFT".
(Diploma in England )
Art and Design Diploma (Birmingham Polytechnic )
B.A. Fashion Design Diploma(University of the Arts London-Fashion design/Art)
(Licence in Japan)
1st Degree NFD Flower Design
Interior Coodinator Licence
2nd Degree Architechture Licence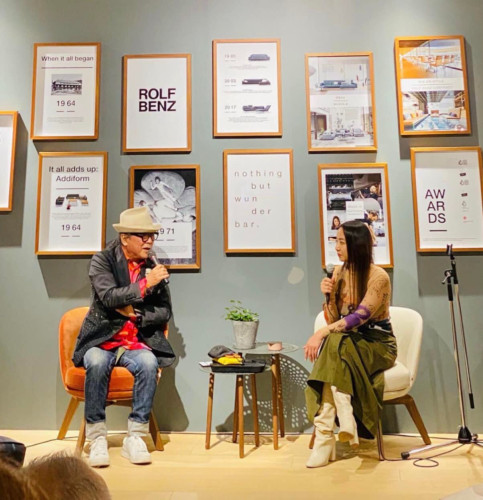 美術家は十代の頃からの夢ではあったが、両親に美術家・アーティストで生きていくなんて非現実的だと猛反対されたことから、デザインの道に進み色々なデザイン分野でキャリアを積んできた。後悔する人生は送りたくないという風に思い始め、潔く突き進む人生を、自ら送りたいと思い始めて絵を描き始めた。絵を描き始めて、すぐに個展の話を頂き、アーティスト活動を本格的に開始。
2018年冬、Artist Bank Japan、日本人アーティストのコミュニティを立ち上げる。
アートイベント、アートチャリティパーティの企画・プロデュースを開始。日本でもっと"アート""を身近に感じてもらう為 、美術・アートのイベントは必要と考え、美術家になってから積極的にイベントなどををおこなってきた。
2020年4月にはコロナの影響から、Artist Patronage Japanを設立。SNSでアーティストがハッシュタグを使い簡単に販売・アプローチできるシステム。また手頃なアートで日本を元気に、"アートの愛の輪"を届けたいとも思って立ち上げ活動。美術・アートが、日本でも一部の人向けだけではなく、日本人のライフスタイルの一部として、潤いとしてもっと感じられるものになり、またアートが人々のひらめきや感動や、意味のあるものになってくれることを強く願っている。
"自分が生きている意味があったと思える生き方、人生にもしたい。"と彼女は言う。
NFTTOKYO JAPON(現FUTUREART・JAPON)を2022年夏に設立。
Masa NFT Barを2022年7月よりスタートさせた。
Masa Event Tokyoを2023年4月にスタート。
現在"宇宙とブロックチェーンアート、NFTを融合させた新プロジェクト"に、初日本人芸術家として関わっている。
(博士号取得 イギリス)
Art and Design Diploma (Birmingham Polytechnic )美術・デザイン博士号
B.A. Fashion Design Diploma (University of the Arts London-Fashion design/Art)ファッションデザイン博士号
(資格 日本 )
NFDフラワーデザインラワーデザイン1級
インテリアコーディネーター
二級建築士