"無"No mind state: connection to the spiritual 精神/禅仏教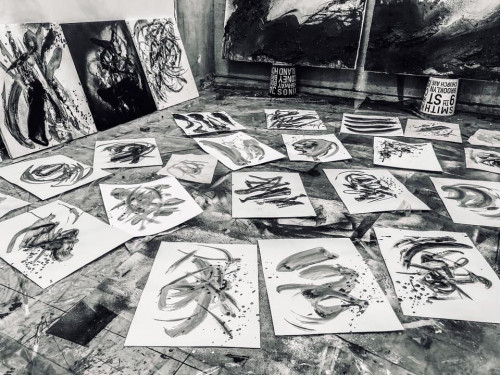 Her physical works are inspired by my Japanese origin, Japanese calligraphy and zen.
Japanese calligraphy was influenced by Zen thought.
For any particular piece of paper, the calligrapher has but one chance to create with the brush.
The brush strokes cannot be corrected, and even a lack of confidence shows up in the work.
The calligrapher must concentrate and be fluid in execution.
To write Zen calligraphy with mastery, one must clear one's mind and let the letters flow out of themselves, not practice and make a tremendous effort.
This state of mind was called the mushin (無心, "no mind state")by the Japanese philosopher Nishida Kitaro.
It is based on the principles of Zen Buddhism, which stresses a connection to the spiritual rather than the physical.
彼女の物理的、フィジカル作品は、日本の書道や禅にインスパイアされています。
自分の日本人のルーツです。
日本の書道は禅思想に影響を受けている。
筆運びは修正できず、自信のなささえ作品に現れる。 書道家は集中して実行に移す必要がある。
禅の書道を巧みに書くためには、練習して多大な努力をするのではなく、心を清めて文字を流し出さなければならない。
この精神状態は、日本の哲学者西田幾多郎によって無心(無心、「無心状態」)と呼ばれていた。
それは、肉体的ではなく精神性とのつながりを強調する禅仏教の原則に基づいている。