"経" Digital/ experiences and perspectives/meaning of layers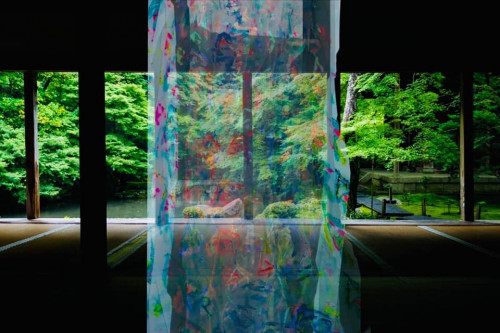 She aims to physically express what she experience digitally.
The use of layers, fabrics which are one of her physical expressions, also includes the meaning of creating a layer of "Ofuda"お札, amulets,
that is familiar in Japan by written Japanese characters.
She paints with "J caliabstract "that she created on her own on fabric layers etc.
⚫︎Since ancient times, Japanese people have believed that by placing something with the power of God close to them, they can protect themselves from disasters and dangers. This turned into "Ofuda" お札amulets, and various amulets were awarded at shrines.
Regarding production, my production way that incorporates digital is viewed from a different angles.
From that, the perspectives and horizons that I have never seen will expand.
As I began to incorporate digital into my production in earnest, I feel the importance of experiences and broadening my horizons more in my life.
As long as I have life, I want to keep learning, understanding and taking action in my own way, in any circumstances and environment.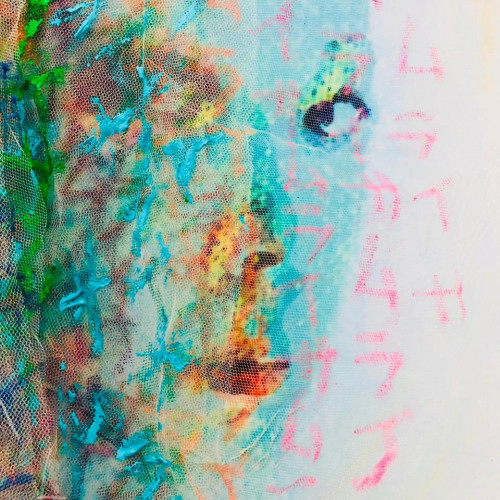 デジタル等をキャンバス等にプリントしたものに、さらに彼女がデジタルで経験する事を物理的に落とし込む事を試みています。
フィジカル表現の一つになっているレイヤー、彼女の生地等の使用は、彼女が生み出した"J caliabstract "を生地などに描き入れる事により、日本で馴染みのある、"お札"の層を作り出す意味も含まれています。
⚫︎お札は、古来、日本人は神さまの力が宿ったものを身近に置くことで、災害や危険から身を守ることができると信じてきました。これがいつしかお守りへと変わり、さまざまなお守りが神社で授与されるようになりました。
制作について、私のデジタルを取り入れた制作の仕方は、角度を変えた見方もします。
その中から考えても見なかった視点や視野が広がってきます。
デジタルを本格的に制作に取り入れるようになり、生きる上においても経験、
また視野を広げて考えていく大切さをより実感する日々です。
私は命がある限り、様々な状況や環境の中、自分なりに学び・理解し、行動し続けたいと思っています。