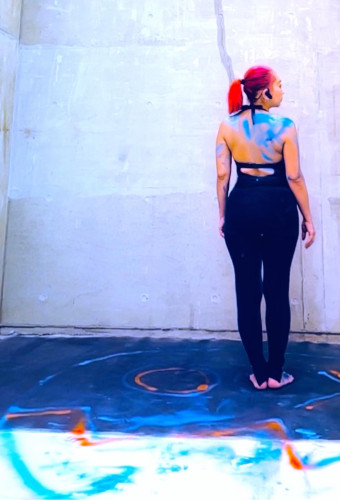 I use my body and hands to paint, and sometimes record my face and body as a human record in photographs, and use it in my work.

I couldn't have a child for 10 years, even if I was healthy and had no problems.
I went to the hospital, they gave medicines, lots of injections, and had a lot of fertility treatment for several years in the past.
Hormones have caused me to gain so much weight and become surprisingly fat too.
There were times when I didn't want to even meet anyone.
And when I was about to give up, 10 years later, I was able to get pregnant and have a baby.
I was very happy when my daughter was in my body, when she was born, and when I held her in my arms.

I thought the life on this earth was a miracle.
I realized that the birth of a life, each life is a miracle.

To me, a naked woman is a metaphor for motherhood, birth of a life and miracles.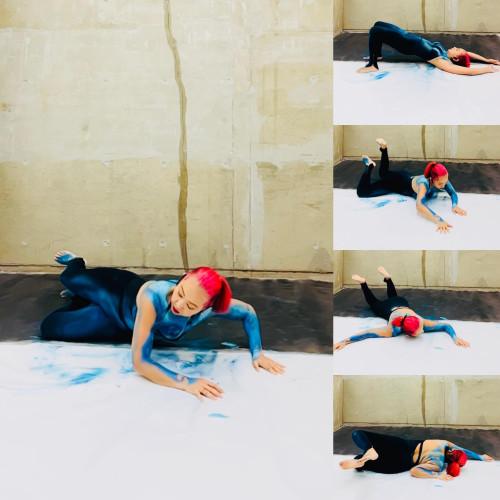 時に、自分の体や手を使い描いたり、顔や体を人間記録として写真で記録し、作品に使用しています。
 
私は実は、健康で問題なくても、10年間、子供ができなかった経験が有ります。
病院に行き、薬とたくさんの注射を打ったり、数年間不妊治療をしていました。
ホルモンのせいで体重が増えて驚くほど太ってしまったりした事も。その時は人に会うのもいやになるほどでした。
そして10年後に諦めかけていた頃に妊娠、子供を産むことができました。
娘が私の体にいた時、彼女が生まれたとき、この手で娘を抱いた時、とても幸せでした。

命は、奇跡だと思いました。
全ての命の誕生は、奇跡だと気づきました。

私にとって裸の女性は、母性、命の誕生や奇跡の比喩です。